We have reached the halfway point of summer and it is hot! Alan and Rowan are taking 8am swim lessons so that we can be away from the pool before the real heat kicks in, but it sure does make for a bunch of early mornings. I guess we will be in practice for when school starts in 6 weeks (woo hoo). I have to say that I am getting really excited about the back to school season. In all honesty, it has been nice having the kids all home and I have enjoyed going to the movies and library and having fun with them, but I love the excitement of back to school. The smell of school supplies is in the air, PTO board meetings are being scheduled and flyers are being prepped about Meet the Teacher nights and class schedule pickups. I can't wait.
This weekend we decided to make a bunch of quick grab and go breakfast items so that we are ready for the early morning run out the door to swimming. We also decided to make double batches of everything to stick in the deep freeze so that we will have a stockpile for when school starts up. We started off with a big batch of
breakfast cookies
and then decided to make some Mickey Mouse shaped Breakfast Bausage Muffins. My girls love these and had a great time making them. Alan is not a fan because of his strange dislike for cheese (crazy boy), but enjoyed helping out anyway. The kids aren't big on the green chilis that the recipe calls for so we left those out.
Ashley browning the sausage.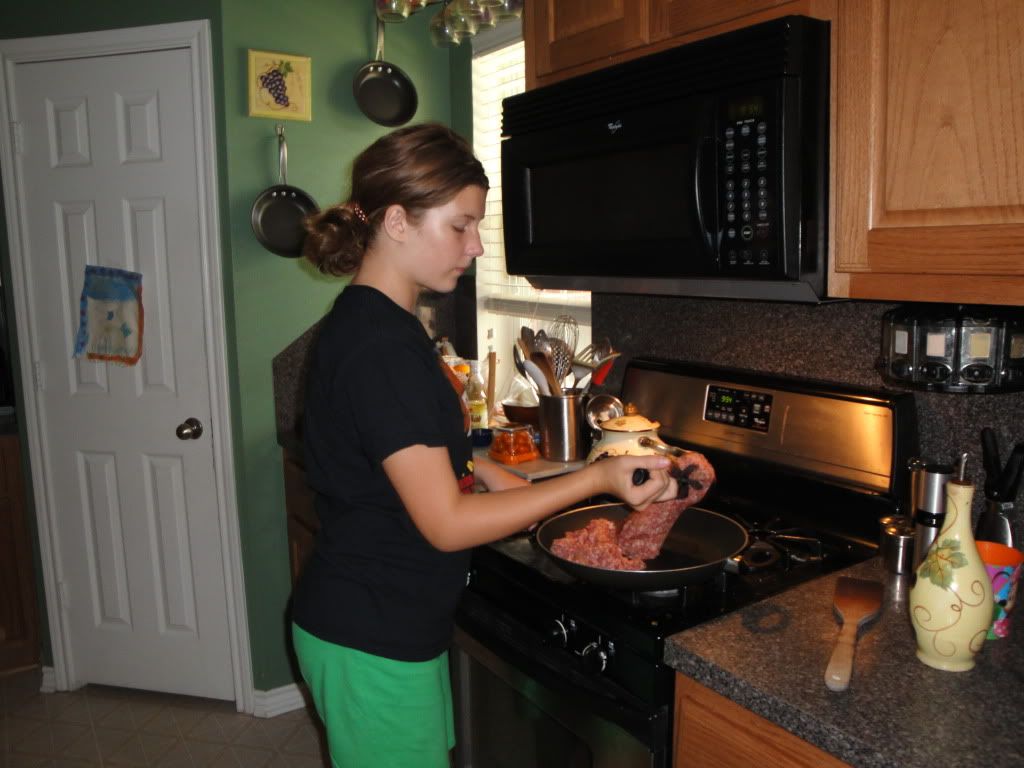 Don't they look yummy?
Sausage Breakfast Muffins
1 lb cooked pork sausage
1 can cheddar cheese soup
1 c. shredded cheddar cheese
2/3 c. water
3 c. bisquick or other baking mix
1 can green chilis
Cook sausage, crumble into small pieces. In large bowl combine soup, water, and cheese. Stir in bisquick and green chilis; add sausage. Fill greased muffin tins 3/4 full. Bake 350 for 20-25 minutes.