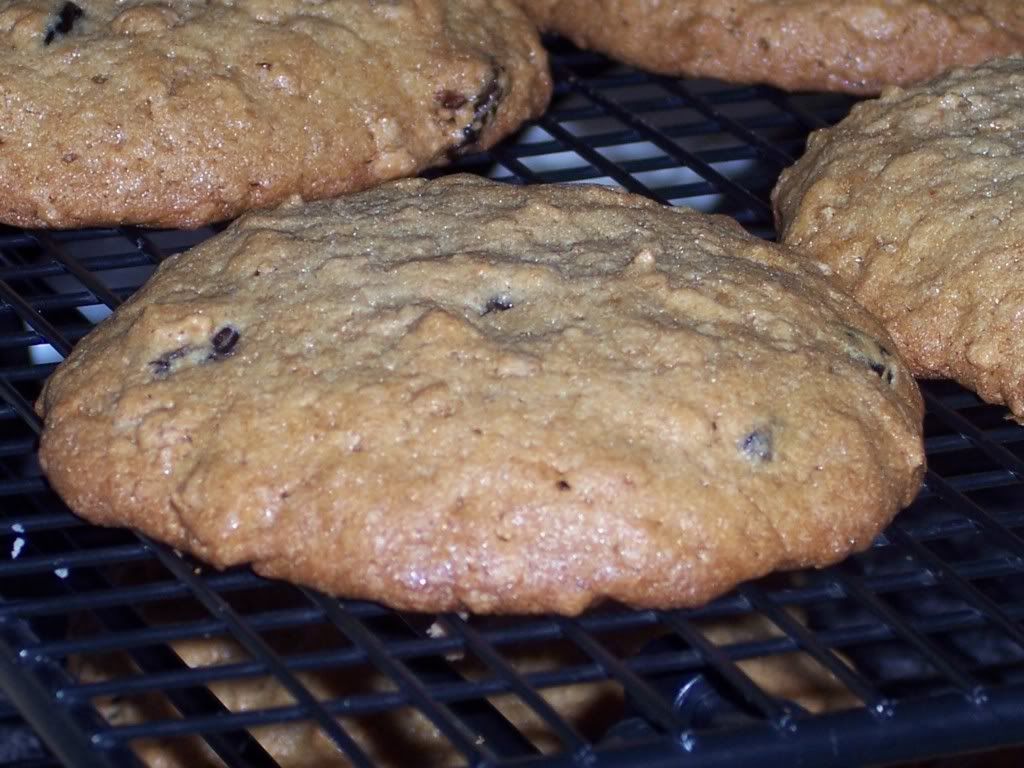 They look great don't they? Can you believe that this tasty looking treats are actually a great breakfast cookie to eat on the run. We went on a nearly 2 week trip to DisneyWorld and were looking for easy breakfast items to grab and eat while on the shuttle to the parks and in the car for the 2 day trip there and back. These tasty breakfast cookies are easy, portable and much more nutritious than a PopTart.
For this round of cooking, little sister Rowan wanted in on the baking action. This little girl is my cookie monster and will eat just about anything if it is in the form of a cookie. She is very proud to be getting to help.
The girls creamed butter and brown sugar in the mixer. Here they are scarping down the sides.
The cookies are really large and a fill a 1/4 cup of dough per cookie.
The whole wheat flour and bran from the cereal make the dough dark. I am normally not a fan of dark cookies, but these are so good and moist that I can get past a bit of color.
These are an awesome grab and go breakfast that make any weekday morning easy. The girls made 2 dozen and we froze the cookies and just heated them in a damp paper towel in the microwave in the hotel. The recipe is really versatile and you can substitute any of the flake cereal and fruit combos. I have made this recipe with Raisin bran, Red berries and Chocolate flakes. Sometimes I will add a handful of extra raisins or dried strawberries. Pick your family's favorite and give it a try.
Check out more fun blogs at
Breakfast Cereal Cookies
1/4 cup butter
2/3 cup brown sugar
2 eggs
1 teaspoon baking soda
1 3/4 white whole wheat flour or whole wheat pastry flour
3 cups mulitgrain cereal flakes
Turn on the oven to 350°F. Coat the cookie sheet with nonstick cooking spray.
Put the butter in the mixing bowl. Beat with the electric mixer for 30 seconds. Add brown sugar and baking soda. Beat until mixed. Add the eggs; beat until mixed. Add flour and beatuntil the mixture no longer looks dry. Use the wooden spoon to stir in the cereal.
For each cookie, pack the mixture into a 1/4-CUP measuring cup. Use the rubber scraper to scrape it out of the cup onto the prepared cookie sheet. Press mound of dough with your fingersto flatten it slightly. Repeat with remaining dough, placingcookies about 3 inches apart.
Put the cookie sheet in the oven. Bake cookies for 8 to 10 minutes or until edges are golden brown.
Makes 12 cookies.