I have been working on sneaking more fish into our diets. The husband isn't really a fan of seafood and definitely doesn't like anything "fishy". Creative recipes that disguise the fish flavor are a must.
Mediterranean Halibut with tomato, mint and feta definitely fit the bill. Halibut has a mild sweet flavor and the robust flavors of the tomato mint and feta really hid any chance of "fishy taste". Ok, yes I realize that halibut is super pricey. 2 fillets cost almost $12 so it is not an economical fish to buy for the entire family. Honestly, you could use any firm, thick fish. I bet cod would work well.
The tomato is oven roasted to really bring out the sweetness and aroma. The tomato is mixed with onion, garlic, mint salt and pepper and baked for 15 minutes. The smell was incredible.
The fish was tossed in oil, covered with the tomato mixture and topped with feta before baking for 20 minutes.
The finished product looked and smelled wonderful. I topped with a sprinkling of chopped mint when serving with roasted root vegetables.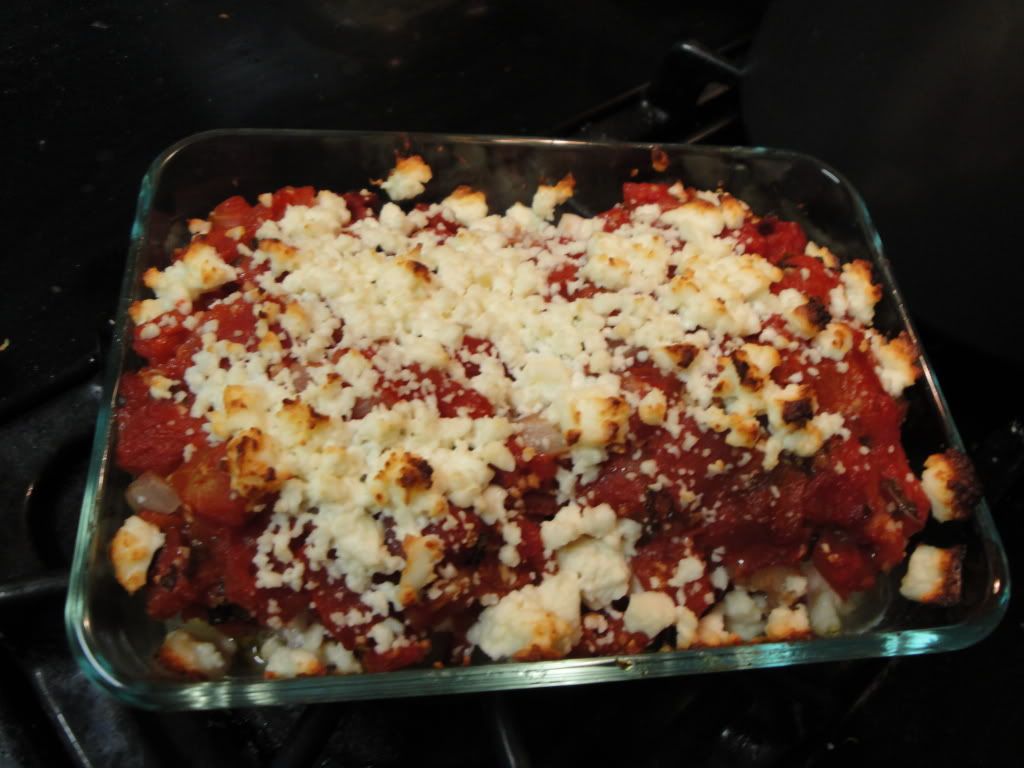 This flavorful dish definitely worked for a healthy Fish Friday meal.
Mediterranean Halibut with Tomatoes, Mint and Feta
14.5 oz can diced tomato, drained
1/4 cup chopped onion
1 clove of minced garlic
2 tbls fresh mint, chopped
3/4 tsp salt
1/2 tsp pepper
1/2 cup olive oil
2 halibut fillets
Preheat the oven to 400. Combine the tomato, onion, garlic, mint and salt and pepper and pour onto a baking sheet. Bake for 15 minutes, until most of the liquid has evaporated.
Reduce oven to 350. Toss the halibut with the oil and top with the tomato mixture and feta. Bake for 15-20 minutes, until cheese is melted and fish is cooked through. Sprinkle with more mint and serve hot.
Check out some really great food pictures on
Food Trip Friday
. There is a ton of great fish ideas on there. This recipe is also linked up to
Full Plate Thursday
and
Recipe Swap Thursday
. There are some really yummy recipes!