I was digging through some old pictures and found these from a couple years ago. My kids have always been into cooking, even the little ones. Ashley got her first cookbook as a gift for her 4th birthday and Alan has always loved to pull a chair up to the counter and watch me make his lunch.
These pictures are from a couple years ago when Ashley was 8 and Alan was 3. Ashley was doing a project on the Middle East, so my mother sent her a wooden cookie press and a recipe for Al Mamool cookies that she had used when they lived in Saudi Arabia. She made a big batch to take to school for her classmates to try.
Balls of dough were formed around a filling of sugar and walnuts. The dough balls were pressed into a wooden cookie mold.
The pressed dough balls had to knocked out of the mold. It was a bit tough to do, but even little Alan got into it..
He had a great time helping out.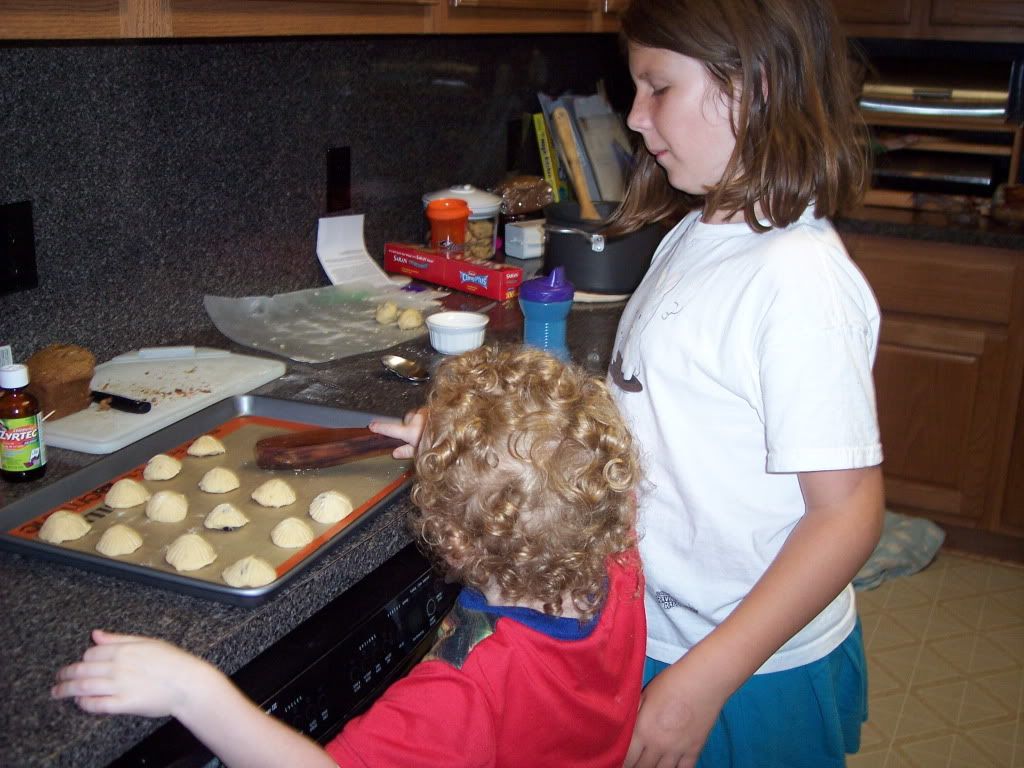 Sometimes they both had to wack them out of the mold.
Eventually Ashley took over.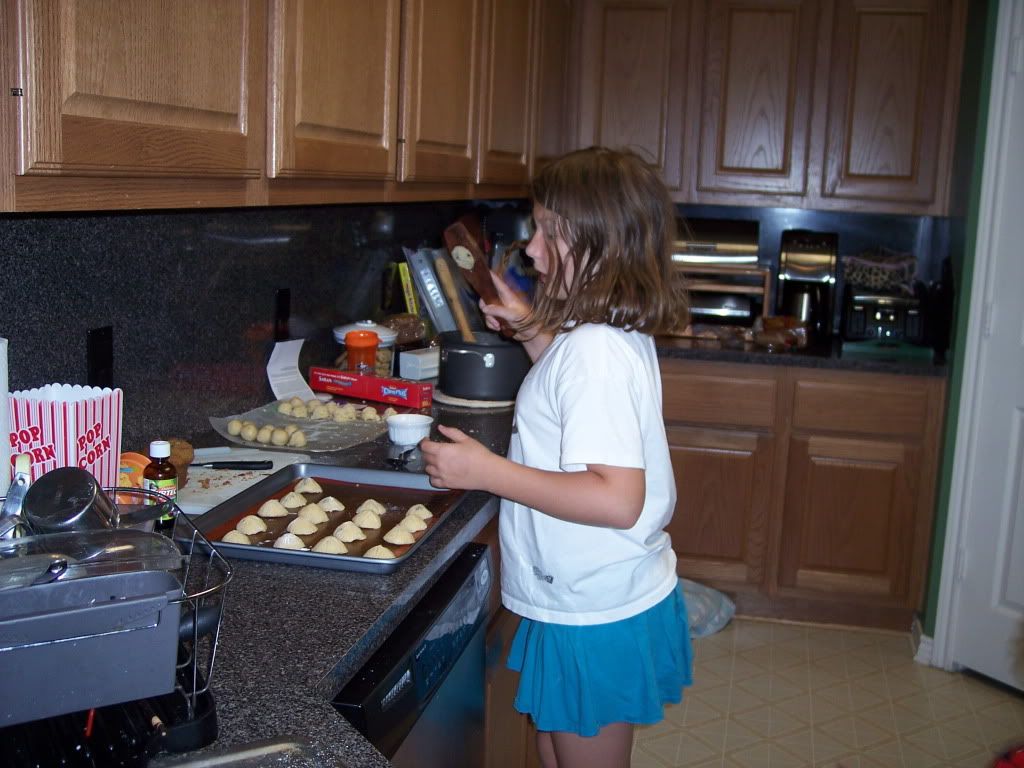 After baking, they dusted the cookies with powder sugar and anxiously waited for them to cool enough to test. They were very proud. Aren't they cute?
The cookies were kind of dry for my liking, but the kids and Ashley's classmates loved them. She got an A for her project and learned a lot about the Middle East. Alan had a great time and loved eating his part of the project.
Here is the recipe if you would like to try them out. The balls of dough can be mashed with a fork if you don't have a wooden mold. To find other recipes and ways to get kids involved in the kitchen check out
Al Mamool
Ingredients
2 cups semolina flour
1 1/2 cups shortening
1 cup boiling water
3/4 cup white sugar
2 cups ground walnuts
1/2 teaspoon of cinnamon for flavoring
1/4 cup confectioners' sugar for dusting (optional)
Directions
1.Place the semolina flour into a medium bowl, and cut in shortening using a pastry blender or a fork. Pour in boiling water, and mix to form a solid dough. Turn the dough out onto a lightly floured surface, and knead for a minute or two to be sure the dough is well blended. Cover dough and let stand for at least one hour, or as long as overnight.
2.In a medium bowl, mix together the sugar, ground nuts, and cinnamon so that the mixture is uniform. Set aside.
3.Preheat the oven to 350 degrees F (175 degrees C). Grease cookie sheets, or line with parchment paper. Knead dough again briefly, and form into walnut sized balls. Make a hole in the center using your finger. Fill the hole with the nut mixture, and seal the dough up over it. Gently form into balls or crescents, and press into wooden cookie press. Place cookies at least 1 inch apart onto the prepared cookie sheets.
4.Bake for 10 to 12 minutes in the preheated oven, or until lightly browned. Dust with confectioners sugar while still warm if desired.