We recently returned from our vacation to Disney World and all the eating fun that goes with it. Dining at Disney can be really expensive and as a family traveling on a budget we had to figure out a way to cut down on the costs quite a bit. Don't get me wrong, we definitely did some splurging, but eating in the parks for three meals a day just wasn't feasible for us.
My next post will be on how we cut the corners but, this one is going to focus on our splurge days. We have 3 children and just could not pass up the character dining options while they are still young enough to enjoy them. The character meals can be extremely expensive. Disney considers ages 9 and up to be adults so my 11 eleven year old was charged adult prices at all restaurants. After some research I found out the the Chef Mickey's breakfast and Cinderella's Dinner at 1900 Park fare were two of the less expensive options and luckily were exactly what we were looking for.
Our first character meal was at Chef Mickey's. They serve breakfast and dinner at the Contemporary Resort with Mickey Mouse, Pluto, Donald and Goofy there visiting tables, signing autograph books and taking pictures. We had the last reservation for breakfast, so we arrived at 11:50. We treated it like it was lunch and it worked out really well for us.
When we arrived we walked up to a podium where they asked for our name and we were presented with a pager. We then went over to a statue of Chef Mickey where we all had our picture taken. Later they bring the pictures by your table in a folder with some other pictures of the characters and recipes for you to purchase. We bought ours because we were all looking at the camera. That's a big thing for a family of 5!
We then went to a sitting area where we waited for our table to be ready. When we were called we were brought passed the giant buffet tables to our seats where Goofy was already visiting tables. The server arrived with orange juice and coffee and described the buffet options. The restaurant did not have Coke Zero and he kindly offered to go buy one for me at the gift shop! I stuck with a diet coke and went off to check out the grub while Ashley tried to sneak some coffee.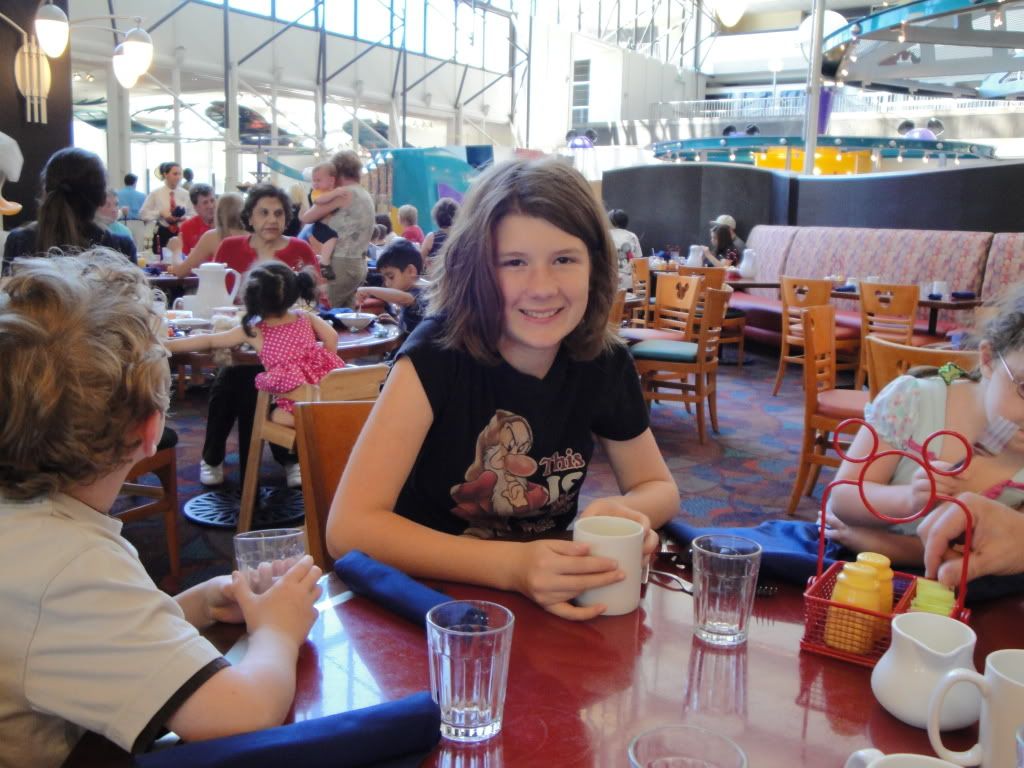 The food itself wasn't anything stellar. It was your basic breakfast buffet of bacon, sausage, scrambled eggs, quiche, egg pizza and fruit. There was some really cute Mickey Mouse shaped waffles, but nothing out of the ordinary that you would expect when paying $40 each for breakfast. This was definitely not one of the dining experiences that you paid for the food. But the character interaction was great and my kids really loved it.
The even did a little "Celebrate" dance party where the character and kids twirled their napkins in the air and danced. My son LOVED this and his smile was totally worth the price.
Our second character dining experience was Cinderella's Happily Ever After dinner at 1900 Park Fare in the Grand Floridian. This is not the one in the castle at Magic Kingdom. The castle was being renovated and the reservation were scarce so we decided to try the one at the Grand Floridian resort. We were all so excited about this and we thought that my youngest would love it. 4 year old girls love Cinderella and she in no exception. She however is not fond of the costumed characters, but told us that the princesses would be different because they are people. We went with high hopes.
The procedure was basically the same. We went to the front desk and gave them our names and then they shuffled us over to get our pictures taken in front of a mural of the castle. This is where things fell apart. Rowan REFUSED to have her picture taken with the rest of us. There was not a character to be seen, but she was just done with the picture taking. We had spent the day at the water park and our dinner reservation was at 8:30, so she was tired and a total mess. As we sat in the sitting area trying to figure out what to do, she said she wasn't hungry and wanted to go back to the hotel. Alan said the same thing, but when you asked him is he wanted to see Cinderella he said he wanted to stay. Ashley was very vocal in her opinion that we stay and honestly I wanted to meet the princesses too, so we did. David was a bit ticked about getting ready to spend $180 for dinner that the little ones didn't want, but we stuck it out.
I AM SO GLAD WE DID. Our server came out to meet us and took us in the cutest restaurant to the nicest and biggest table I had seen. Cinderella and Prince Charming were on the other side of the room and Rowan kept peeking over her chair to see them. The food was definitely better than the typical Golden Coral buffet. We had Paella, Roast beef, Chicken Marsala and several various pasta. The salads were amazing and it had a great selection of soups. Honestly, I was surprised at the quality of the food. It was definitely worth the price. The kids had their own little buffet with Mickey Mouse shaped plates and macaroni and cheese, spaghetti, steamed corn and broccoli and cheese pizza.
The best part of the experience was not the food though. Of all things it was one of the stepsisters. First the evil stepmother came by. She was great and very in character as she scolded children for not sitting right and advised them to mind their manners.
I love Alan's face here. It's like he is saying" She is behind me isn't she?"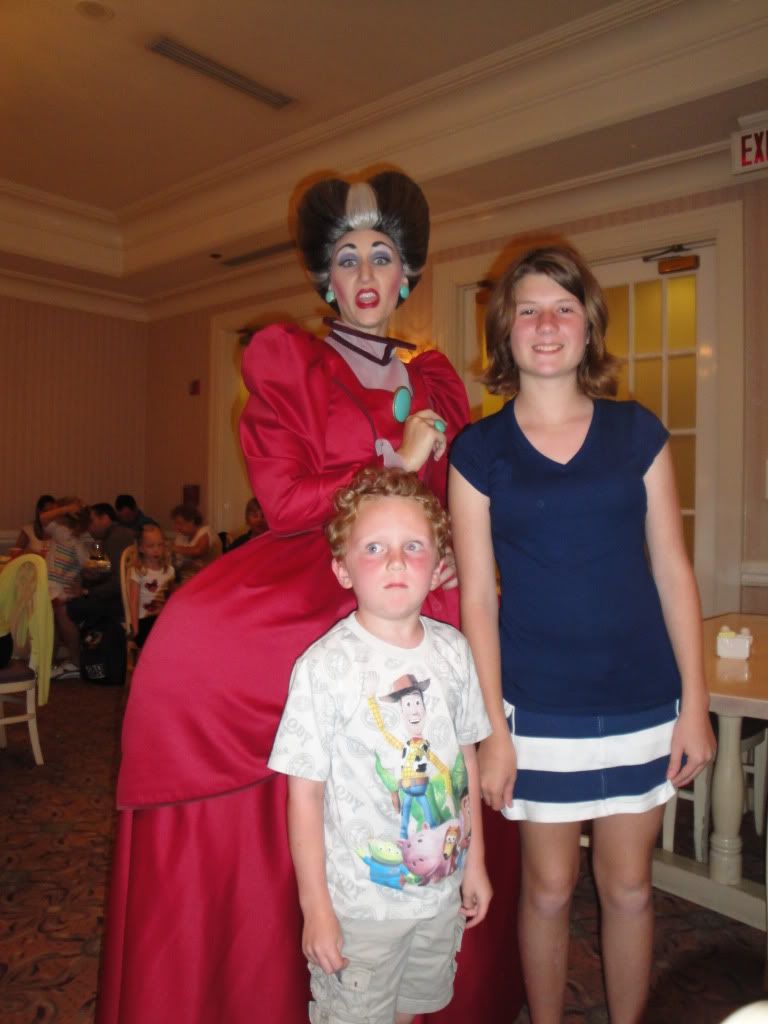 Rowan was still being resistant to seeing the characters and just giggled a bit when Cinderella's step sister, Anastasia came by the table and planted this kiss on her brother. He was instantly love struck. Very cute!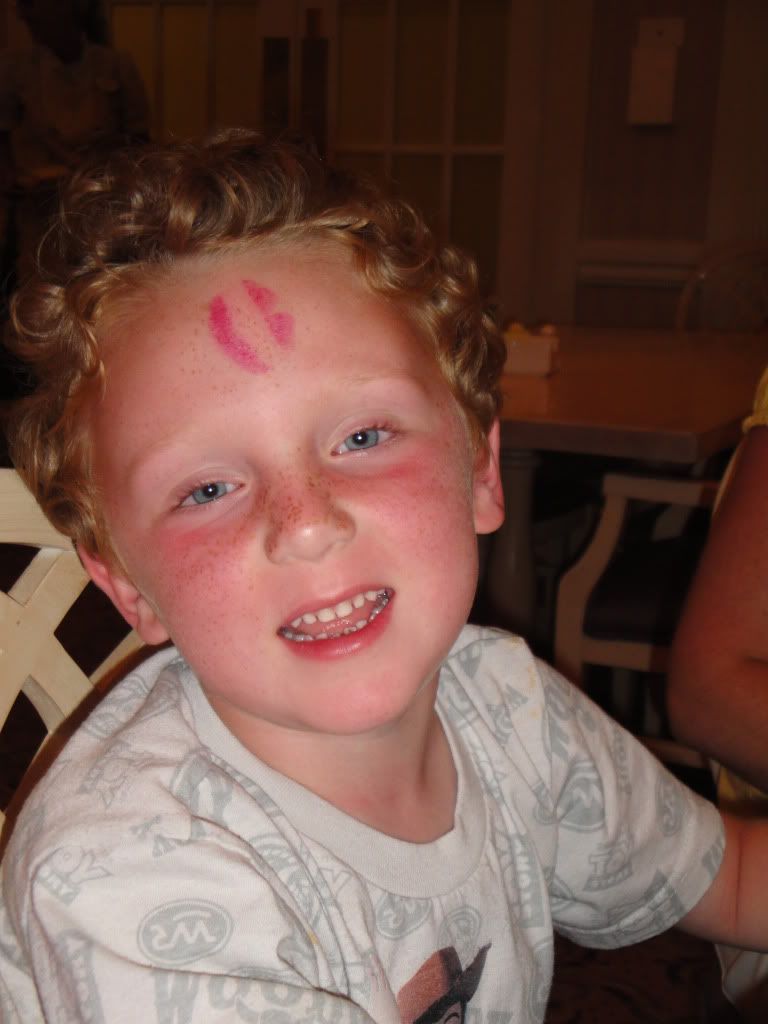 When Rowan refused to talk to her, Anastasia sat down at our table and asked her why. She asked Rowan questions and they talked about dogs and chores and sisters, all the while staying in character and asking Rowan why she was scared of her. This went on for almost 10 minutes. The 2 of them just chatted away with Rowan explaining to her why she was scary but her dog is not.
Then Drizella showed up to our table and the the three of them talked about why she could now talk to them, but wouldn't take her picture with them.
So they presented Rowan with a proposition. She could sit right where she was and they would just stand behind her for a picture. This is what we got.
Honestly, I couldn't stop laughing. The entire thing was hysterical and only made sense in the mind of a 4 year old.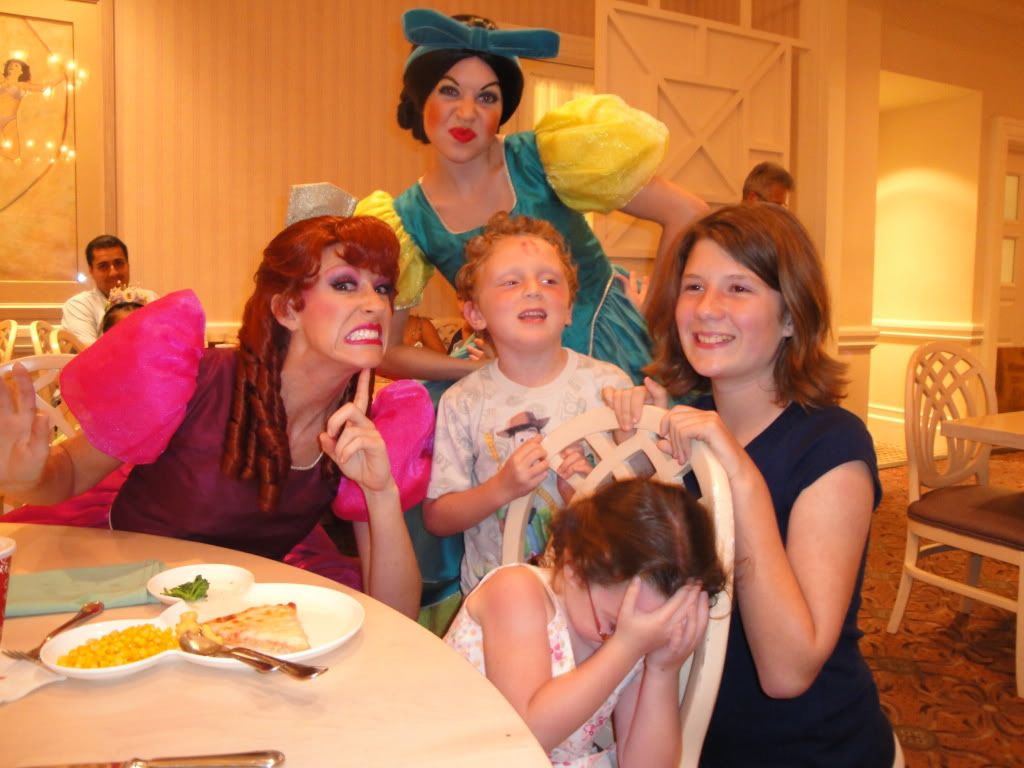 While this was going on, out wonderful server brought us the best dessert.
It was chocolate and vanilla bean ice cream on a sponge cake with Bananas Foster and strawberries.
After having all the time with the stepsisters, Cinderella and Prince Charming came by but were kind of a let down.
Rowan definitely perked up and kept talking about how they talked to her. We all ended up having a great time and I am SO GLAD that we didn't leave.
She even wanted to have her picture taken by the mural. Too bad the photographers were long gone by the time we left.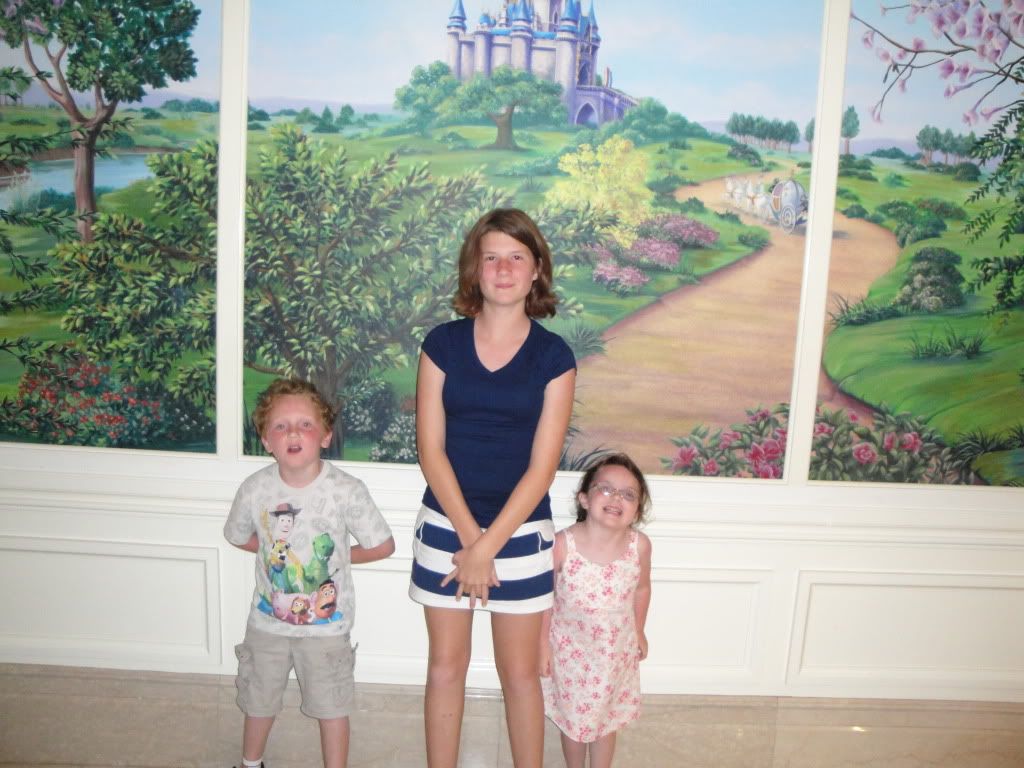 The cost of these meals was a bit steep for us, but I am really happy that we did it. The next time we make it to Disney the kids probably won't be as in to the characters and it was definitely an experience that they will remember.