I have been trying for ages to have a meatless meal one day a week. The health and financial perks have always been intriguing, but lately I have been inspired by the
Meatless Monday
movement. Really everyone should check it out. Honestly, I will may cheat and have fish occasionally, but a true vegetarian meal every now and then might sneak past the family.
One of my client families loves meatless meals every couple weeks, so this is one that I made for them. All I can say it that it is AMAZING. It does not taste at all like what I was expecting when I tried the recipe I found on
allrecipes.com
. After some tweaking I think the recipe is just the way I want it. The flavors are intense intense in this hearty stew. It was so easy to sneak a large variety of vegetable into my unsuspecting kids.
Check out the tray of veggies!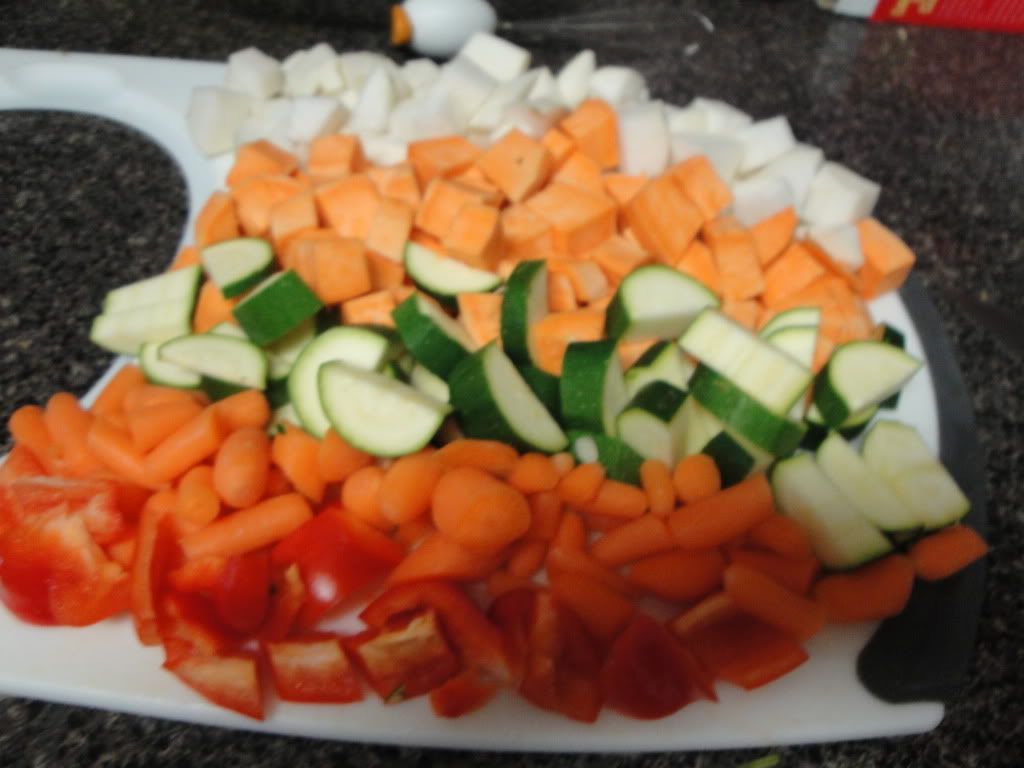 The onions and garlic were sauteed in a tiny bit of oil, then vegetable broth was added.
Afterwards I added in all the vegetables.
Then the seasonings were added.
Doesn't it look delicious????
After I made this big batch up, I let it cool and froze it in a Food saver bag. The couscous is a bit thicker and less soup like.
I have to say that it is REALLY good. The sauce is surprisingly sweet and the veggies are so tender that they kind of melt in your mouth. This recipe is wonderful and will most likely make a frequent appearance on our Meatless Mondays.
Ingredients
1 tablespoon olive oil
1 onion, diced
3 cloves garlic
4 cups vegetable broth
2 carrots, peeled and cubed
2 turnips, peeled and 1 sweet potato, cubed
1 zucchini, cubed
1 red bell pepper, cubed
1 (15 ounce) can garbanzo beans, drained
1 (15 ounce) can tomato sauce
1/4 teaspoon ground cinnamon
1/2 teaspoon ground turmeric
1 pinch saffron
1 pinch curry powder
2 cups uncooked Israeli couscous
Directions
1.Heat oil in a large pot over medium-high heat; saute onion and garlic until golden. Pour in vegetable broth and bring to a boil. Stir in all the vegetables and simmer for 30 minutes
2.Stir in garbanzo beans, tomato sauce, cinnamon, turmeric, saffron and curry powder. Simmer until heated through.
3.Meanwhile, bring 2 1/2 cups water to a boil. Stir in couscous, cover and remove from heat. Let stand 5 to 7 minutes. Fluff with a fork and mix into the vegetables. Simmer uncovered for another 15 minutes.