Last week I had an order for some tasty wraps. These are great items to have in freezer and just pull out when you need a quick lunch or dinner. Portable food has a ton of advantages when your on the go!We were going for a healthier alternative to fast food and eating out, so all of these wraps were made on the large whole wheat burrito size tortillas.
The first batch was a flavorful mix of tender beef, onions and peppers for Philly Cheeseteak style wrap. The onions and peppers smother down in the sauce for about 45 minutes. It takes a huge amount of onions because the cook down so much and honestly I would suggest using a mandolin to slice them or you will be crying for an hour! My family could smell the vegetables cooking from the sidewalk!
These Sicilian Sausage Wraps had a blend of pepper onions, tomatoes and olives with sweet italian sausage. This my be my favorite of the wraps. It was so full of amazing flavors and smelled amazing. This is a definite must try.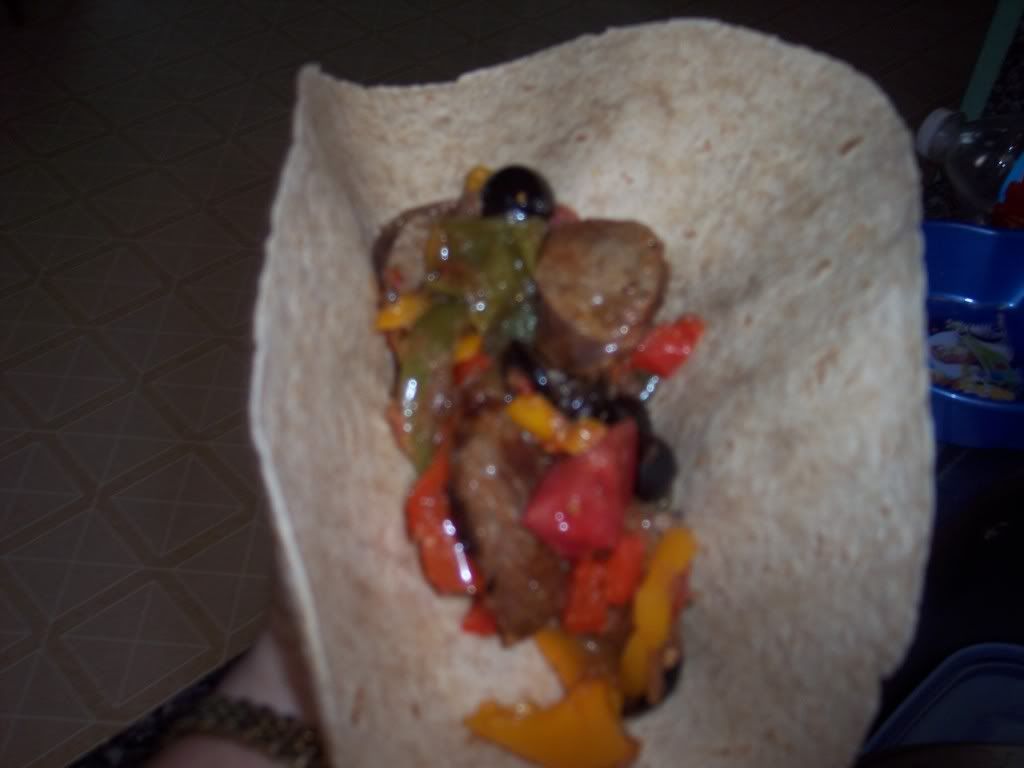 I have a ton of family stuff going on these next few weeks so I am going to be taking a break from the Blogosphere. Don't worry though, there will still be lots of fun at It Happens at Dinner. I have a few blast from the past posts set with adorable pictures of my kiddos when they were younger and a guest blogger all set up. Kimberly at
It Began in Camp 4
has graciously written a couple of guest posts for us to be published on next Wednesday and Friday. Its going to be great and don't forget to go check out her blog. She is full of great food, homeschooling and frugal living info, plus her kids are adorable. Check her out!
It Began in Camp 4
Philly Cheese Steak Wraps
Makes 4 wraps.
1 1/2 pounds thin steak
1/4 cup soy sauce
1/4 teaspoon cayenne pepper
1 teaspoon cumin
2 tablespoons vegetable oil
coarse salt and black pepper, to taste
3 medium sweet onions, peeled and thinly sliced
3 bell peppers, thinly slices
6 ounces shredded smoked Cheddar cheese
1/2 cup A1 brand or other steak sauce
4 (12-inch) whole wheat flour tortillas
Combine soy, cayenne, cumin and vegetable oil. Rub mixture into meat, coating both sides evenly. Sprinkle with coarse salt and black pepper and let stand.
Heat nonstick griddle or large nonstick skillet over high heat. When pan is over hot, place meat onto skillet or grill and cook for 5 minutes. Reduce heat to medium-high. Turn steak over and cook 10 to 12 minutes more. Place a loose foil tent over meat to reflect heat and control spattering. Remove meat from pan and let stand.
Return pan to heat and add a tablespoon of oil. Add onions and peppers. Cook 10 until soft and golden brown. Cover the onions to smother them while they cook.
To assemble, paint a tortilla with steak sauce using a pastry brush. Pile meat, smoked shredded cheese and veggies down the center of tortilla. Tuck the top and bottom edges of wrap in and twist the tortilla a quarter turn. Wrap and roll meats up into a burrito shape. Split each wrap in two with a cut across the middle of the wrap.