Many of you know that I have struggled with my weight most of my life. Other than a short lived bout as a size 2 in my early 20's after a bad breakup, I have been chunky most of my life. I wouldn't say obese, just overweight. LOL- ok that sounded weird. I eat right, try to exercise and in general have a healthy lifestyle, but also have the metabolism of a slug. My BP is low and heart rate is a snails pace, so loosing weight can be tough. Not trying to make excuses, it's just the truth. Lately I have been watching the numbers creep up on the scale so I have decided to really rededicate myself to watching every bite and documenting every calorie. Blech- no fun and tedious, but it is what it is. Tonight was a tough one to keep on track. I was feeling pretty sluggish and really just wanted to have the hubby pick up pizza on the way home. We almost never do that, but I felt the need to rebel even though I had a perfectly healthy and yummy dinner in the fridge. Thankfully, my cheap streak overpowered my lazy tendency and I pulled out a great dinner. Plus, I got to have Ashley help out and was able to feed something healthy for dinner.
Tonight we had Honey Sesame Pork Chops with a veggie stirfry over bean thread noodles. It was so good that I didn't even miss the pizza. The pork chops were a from a batch party and the stirfry was thrown together from what was in my crisper. Aren't all good stir frys made that way?
Ashley started by chopping up some celery into large chunks. She did pretty well with the big knife once I explained that it is better to leave the tip on the cutting board and just slide the celery. Before that she was hacking at the veggies like a serial killer and scaring the crud out of me.
She can scrape carrots like a pro though!
and did a much better job of chopping them.
She sauteed the carrots and celery in a hot pan. We don't have a wok. I know its amazing because we have every other kitchen tool known to man. Ok well I still don't have that torch, but Mother's Day is coming.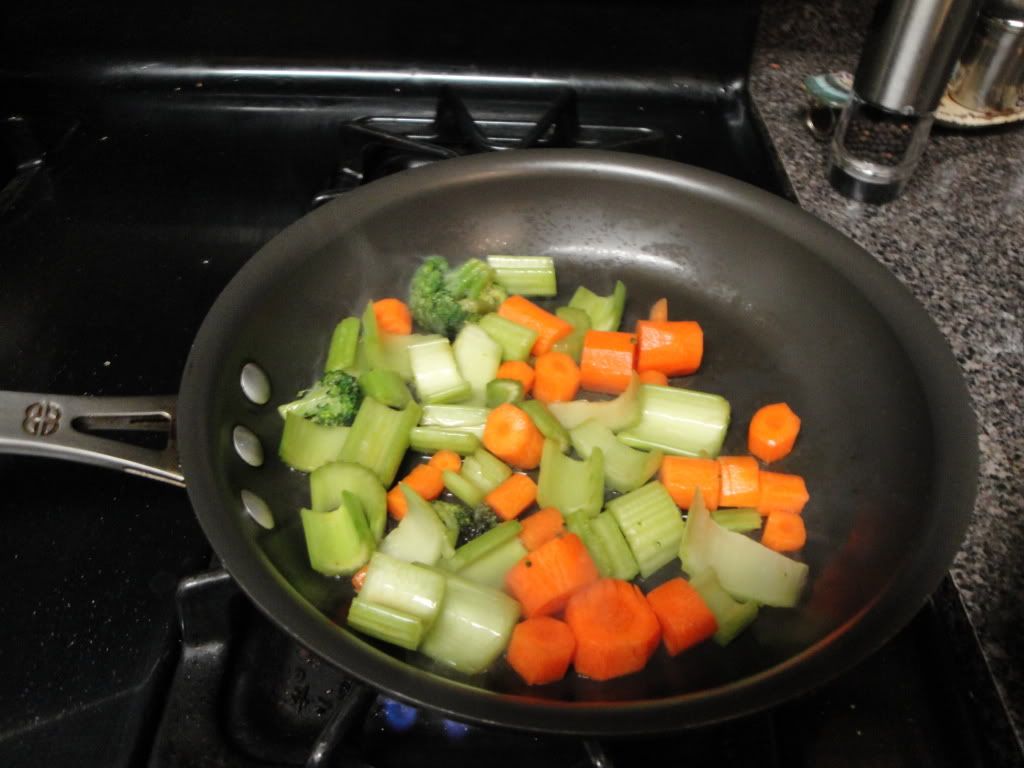 She tossed in some broccoli and green beans and a couple tablespoons of teryaki sauce.
She added in some softened bean thread noodles, sesame oil and sesame seeds. Doesn't it look amazing?
The veggie stir fry went perfectly with the Honey Sesame Chops. I decided to grill them since we were having a warmer day.
They were juicy and slightly sweet with awesome grill marks.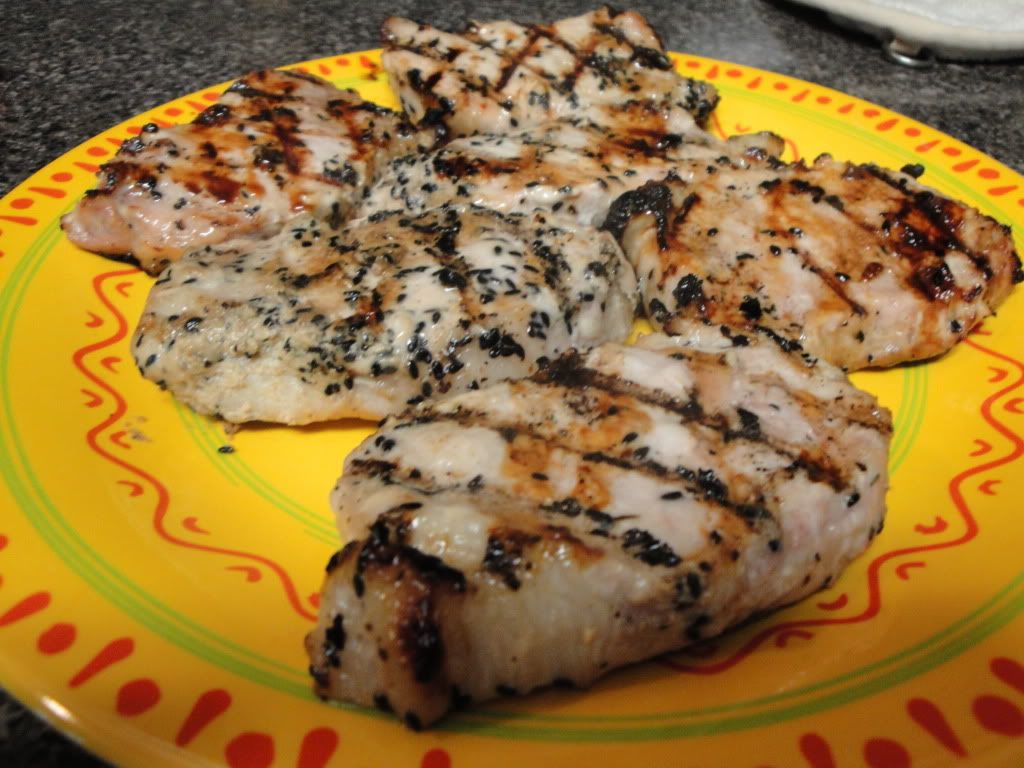 The little kids gobbled it up and Ashley was very proud of her contribution to dinner. For more information on getting your kids involed in the kitchen check out
The Kids Cook Monday campaign.
Honey Sesame Pork Chops
½ cup beer
3 Tablespoons sesame seeds
3 Tablespoons honey
2 Tablespoons Dijon mustard
½ teaspoon pepper
2 cloves crushed garlic
about 3 pounds pork chops or pork loin
mix all ingredients and put in a freezer bag. Freeze.
Thaw and dump into the crockpot and cook on low for 6 hours or grill for 10 minutes on each side.