What is up with all this crazy heat?? Yes, I know it's Texas and that heat and droughts are too be expected, but not in April!!!! The wildfires have been really bad and we have had some hazy days from the smoke. So basically it has been hot enough where you don't want to heat up your house with the oven and yucky outside so you don't want to spend long periods out there at the grill.
One evening I decided to get all the food that was going to need grilling that week and go ahead and do it all at once. The microwave's 50% power setting was going to be my friend. I threw on a
California Thai Sirloin
,
Lemon Grass Grilled Beef
and these tasty Spice Island Chicken Legs along with a ton of veggies.
The Spice Island chicken kind of goes with our tour around the world. The flavors of this dish are popular in St Martin. It is slowly cooked over low grill and served over curried rice. The smells make me think of beaches and fruity drinks out of a coconut.
A flavorful marinade was made of soy sauce, rum, and spices. The chicken took a nice soak overnight.
A few of the chicken legs got a spicy habanero addition.
The skin got a bit charred, but the meat was so tender and juicy, it just enhanced the flavors. This one is definietly worth a try and has a lot of potential as a batch party dish. I think next time I might go with chicken thighs though.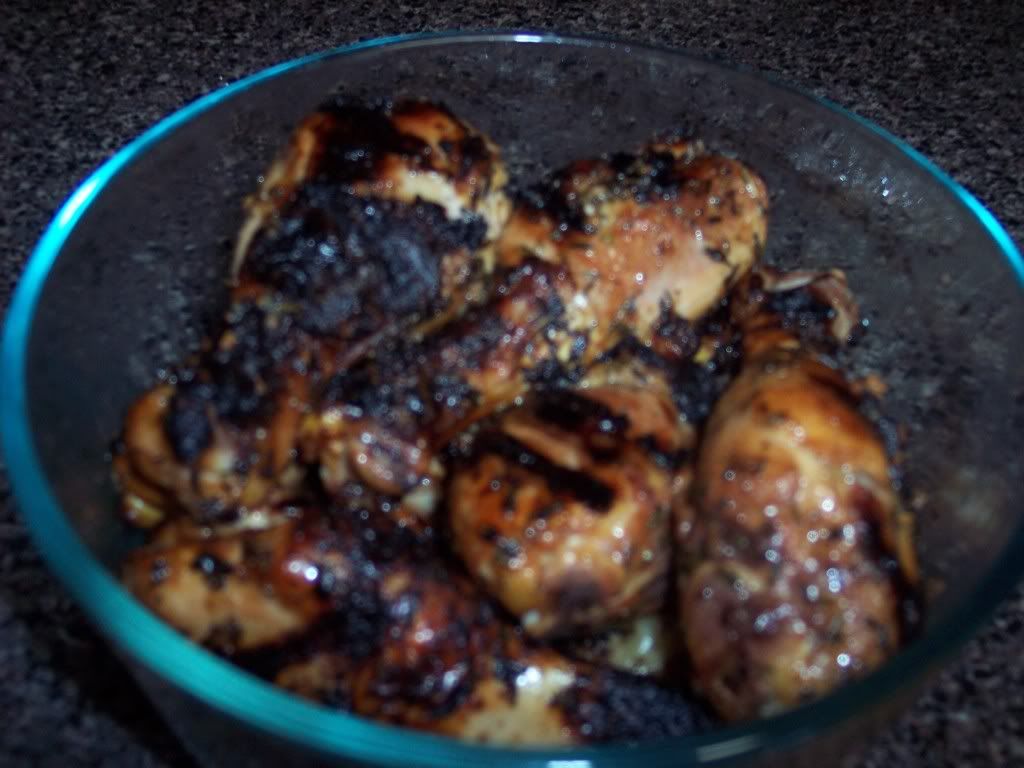 Spice Island Chicken
1 cup Soy Sauce
1/2 cup dark rum
1/2 cup red wine vinegar
1/2 vegetable oil
2 tablespoons thyme leaves
1 tablespoon minced ginger
6 cloves garlic
1 teaspoon ground black pepper
1 teaspoon ground nutmeg
1 teaspoon ground allspice
Juice of 1 lime
8 to 10 chicken thighs or drumsticks.
Mix up all of the ingredients and let the chicke soak for at least a couple of hours. Cook over indirect heat or a low flame for 45 minutes, turning every 15. Serve with curried rice and grilled vegetables.
Check out other awesome meals like this at
Wanderfood Wednesday
or