We have been trying to eat healthy around here lately. Summer is coming and it is time to trim off some of the winter weight. This house has has been overrun with chicken and light dishes for weeks. Finally it is starting to get to us (well mainly my husband) and we, like Clara Peller want to know "Where's the beef?".
Sometimes I miss that old woman. I don't really ever have eaten at Wendy's other than the occasional Frosty, but I remember the commericals really making me want to go in and take advantage of that big Super Bar they used to have. Ahh memories.
I decided to find a way for us to meet our steak cravings, but still have a light dinner. Grilled Lemongrass Steak salad was the perfect fit. The meat is sliced thinly and layered on salad greens for a hearty yet healthy meal and I got to cook it outside on our grill. Not heating up the house to cook is definitely a bonus with the unseasonably warm weather we are having here. Unseasonably warm is never a good thing in Central Texas. That means we have gone from really warm to gates of hell hot. Ok, 95 degrees in mid-April is not really gates of hell hot, but it sure makes me nervous about summer.
Anyway, back to the steak. I used a large top sirloin steak and marinated it in diced lemon grass, soy sauce, lemon juice and cayenne pepper.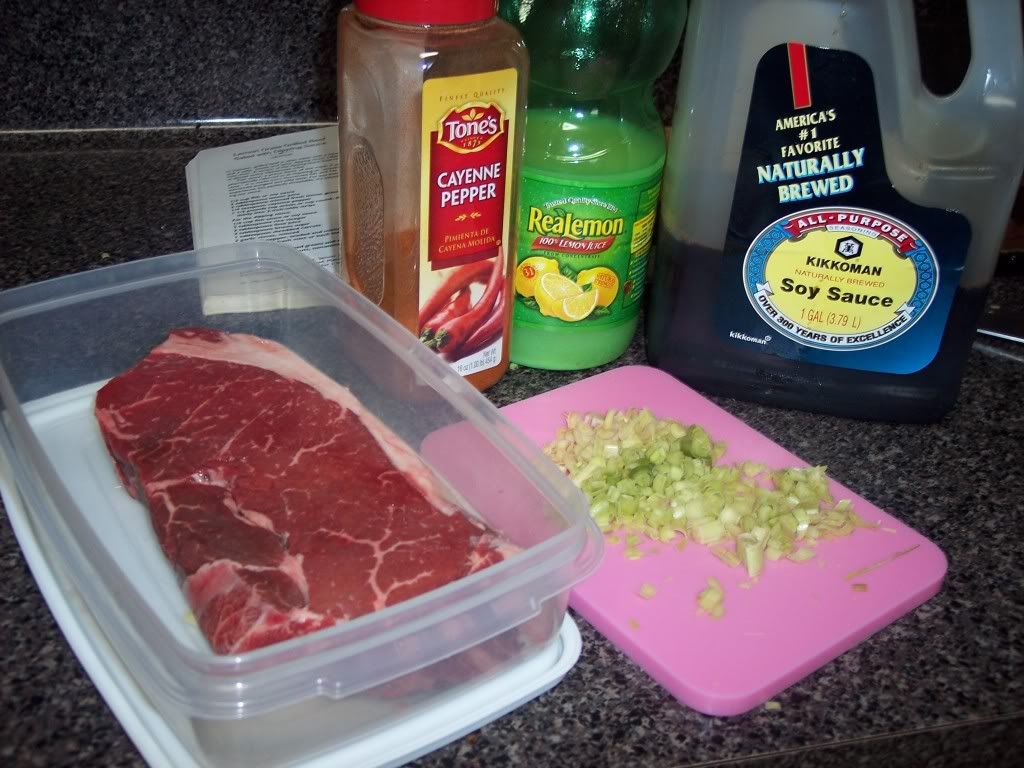 Everything was mixed together and the steak marinated for a couple hours.
The steak was grilled for about 7 minutes on each side for medium rare. When I flipped the steak, I poured the last of marinade over the top. After letting the steak rest for about 15 minutes, I sliced it thinly.
Yes, I know it is still very pink in the middle. Here is my secret. We didn't eat it on the day I cooked it. I had the grill on and was making a ton of other things like grilled veggies and Spice Island chicken so I just added it on. I put the sliced meat in the fridge and we had it the next day. I pulled it off early because I knew that reheating it later would cook the meat a bit more.
I served this on a bed of salad greens with shredded carrots and a touch of clilantro. Delicious!!!
Check out this and other posts like it on
Tasty Tuesday
.